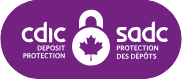 Eligible for CDIC coverage
One of the highest savings account rates in Canada
We offer one of the best daily interest rates available. With an Oaken Savings Account, you'll enjoy no fees and no minimum balance requirements. All Oaken Savings Accounts are eligible for CDIC coverage, up to all applicable limits, so you know your money is always safe.
Everything you need to keep your hard-earned money safe, and working for you

One of the highest daily interest rates, with no monthly fees and no minimum balances – just the good stuff!

There's no limit to the number of transactions you can make free of charge.

You can easily transfer money from your account to an Oaken GIC, so it's easy to take your saving to the next level.

Available for your Commercial needs too, as well as Personal.

If you have Oaken GICs, it's easy to transfer matured balances or interest payments to your savings account until you decide where they're going

Access your money whenever you need it.

Choose either Home Bank or Home Trust Company as the issuer for each account, both of which are separate members of CDIC.

With Oaken Digital Banking, you're also able to check your balances and manage your account with just a few clicks.
Why you should have a savings account
A savings account may seem a little old-fashioned when you consider all the options available today, but it can still be an important part of your overall financial planning. Here's just a few reasons why you should have a savings account:
There's a reason why this most basic form of bank account is called a "savings" account. That's because one of the best things you can do to help build your savings, is to keep your savings separate from your main daily banking account. With the growth of digital payments, and with access to your money just a tap away, it's all too easy to spend more than you intend if you're not careful. By keeping your savings in a separate and dedicated account, it's less likely that you'll use your savings for unintended purposes.
You can use a savings account to set up automatic contributions as part of a "pay yourself first" savings strategy. You can even set up pre-authorized transfers from your other bank accounts to your Oaken Savings Account. It's an easy way to build your savings, as once you've set it up, there's no more work for you to do.
With an Oaken Savings Account, there are no restrictions on when you can access your cash. Nor do you have to commit to maintaining a specific balance in order to qualify for the advertised rate of return. And because the interest rate is annualized, with interest calculated daily and paid monthly, you can access your money at any time, and still receive the interest you've earned up to that point.
One of the most critical requirements of any emergency fund is actually being able to access your fund in the event of an emergency! You never know exactly when you might need this money, so it's critical that you can withdraw your funds at any time, and with little notice. That's why a savings account is the ideal place to keep an emergency fund.
Safeguard your savings
Like our Guaranteed Investment Certificates (GICs), the funds in your Oaken Savings Account are eligible for CDIC insurance coverage. When you open each account, you'll have the option to choose either Home Bank or Home Trust Company as the issuer. Both entities are separate CDIC members, so you can relax knowing that your funds are fully protected by CDIC insurance coverage (up to applicable limits), so your money will always be there when you need it.
*The Oaken Savings Account interest rate is annualized, current as of today's data, and subject to change without notice. Interest is calculated daily and paid monthly.
We're thrilled about our
too with an added 0.10%*
on new GICs!
Get started
0.10% is additional to current Oaken GIC posted rates. The new rate will only be shown on your confirmation. This offer is only applicable to new GICs opened between August 31 and September 1, 2023. GIC renewals during this period are not eligible for this offer.
Are you an existing Oaken customer?
Other ways to open an account
Commercial applications can be downloaded here and mailed to us.
Or if you prefer to make an appointment to apply in person, you can do so by viewing our Oaken store locations. For more information, please email service@oaken.com or call 1-855-OAKEN-22 (625-3622) from Monday to Friday 8:00AM to 8:00PM EST and Saturday from 9:00AM to 5:00pm EST.