Choice, flexibility and security with non-registered GICs
Rest easy knowing that your money will always be there where you need it.
Open a non-registered GIC now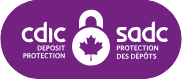 Eligible for CDIC coverage
Some of the best GIC rates available
Our interest rates are among the highest in Canada, with no teaser rates, hidden fees or any other gimmicks. This means you can enjoy the advantages of a guaranteed principal while securely building your savings over time.
Benefits of an Oaken GIC
Unlike registered plans, such as a Tax-Free Saving Account (TFSA) or a Retirement Savings Plan (RSP), there are no limits on how much you can hold in a non-registered GIC. If you've already contributed the maximum amount to a registered account, but you still want the security and guaranteed growth of a GIC, a non-registered GIC is an option to consider.
Oaken offers some of the highest GIC rates available to help you get the most for your investment. Watch your savings grow and with CDIC coverage up to all applicable limits, you can always count on your money being here when you need. Invest in an Oaken GIC and enjoy these benefits:

Terms range from 30 days to 5 years so it's easy to find an Oaken GIC that meets your needs

You choose how often you want to receive interest payments – monthly, semi-annually, annually, or at maturity (for terms of one year of more)

Safe and secure – Oaken personal GICs are eligible for the Canada Deposit Insurance Corporation (CDIC) coverage, up to applicable limits, so your saving are protected and your money will be there when you need it

Select from two issuers for each deposit: Both Home Bank and Home Trust Company are separate CDIC member institutions

Great rates: Oaken offers some of the highest GIC rates available in Canada

Flexible deposit amounts: Our minimum deposit is just $1,000
Is a GIC right for you?
GICs are one of the better ways to protect your principal while still earning a guaranteed rate of return. During times of market volatility and other economic uncertainty, GICs provide a safe place to invest your money. And because GICs offer a range of benefits and options, just about anyone can consider them as part of their savings and investment plan.
Predictable returns
First and foremost, GICs offer guaranteed and predictable returns for the duration of the term. This means that you will receive your original principal, plus the contracted interest rate, when the GIC matures.
Of course, this security comes at a bit of a price, and in the case of GICs, this price is a lower rate of return than you might potentially receive by investing in equity stocks or a mutual fund. However, keep in mind that with equities there is no CDIC coverage, so it's possible that you could lose a portion of your savings. GICs are about protecting your wealth, and are an excellent way to safeguard your savings from fluctuating market cycles.
Secure and stable growth
For those saving for a long term goal such as retirement, the conventional approach is to hold a portfolio that combines equities together with fixed income assets. The ratio of equity to fixed income should reflect your overall savings objective, together with other factors such as your age and planned retirement date.
For instance, younger savers who still have considerable time to work before retiring can be a little more aggressive. However, as investors age, many will start to shift their assets to fixed income, including GICs to protect their gains and preserve their accumulated.
Cashable and flexible
Oaken GICs are available in a wide range of terms, so you can select a timeframe that specifically matches your needs. For short-term investing, you can choose a GIC that matures in as little as 30 days, and for the ultimate in flexibility you can even select a 1-year cashable GIC. This option allows you to redeem your GIC anytime after the initial 30 or 90 days, right up until the GIC matures after 1 year. For higher GIC returns, you can opt for one of Oaken's long-term GICs, which offer maturity dates from 1 – 5 years.
GIC ladders
By allocating your savings across GICs with different maturity dates, you can take advantage of the higher rates offered by long-term GICs, while also ensuring you can still access some of your savings in a shorter time period. Known as a GIC ladder, this approach is also an effective way to minimize the impact of interest rate changes on your savings. For more information, see the previously published Oaken Blog article that discusses how to set up a GIC ladder.
Here are some questions you can ask yourself if you're still not sure whether GICs are the right fit for your needs:
| What are you trying to do? | How we can help |
| --- | --- |
| I'm saving for a specific short-term goal | Our short-term GICs range from 30-365 days. Choose a cashable GIC for extra flexibility. |
| I'm saving for a long-term goal, like retirement | Our long-term GICs range from 1-5 years, and offer some of the best rates available. |
| I'm just saving – not sure what for yet | Our cashable GIC options let you access your money when you need it – whenever that might be! – from as early as 30 days. |
| I've maximized my RRSP and/or TFSA contribution room, and need somewhere to put my extra savings | Deposits up to $100,000 are covered by the Canada Deposit Insurance Corporation (CDIC), so your extra savings will always be protected. |
| I have money in other higher-risk investments | The security of our non-registered GICs provide a great complement to any investment portfolio. |
| I'm retired and want to have control over my savings | Our GICs come in a variety of terms and interest payment frequencies, putting you in control of how much you want to come due and when, keeping your cash flowing the way you need. Our Retirement Income Fund (RIF) is a perfect way to manage your retirement savings. |
Terms and conditions apply. Offer valid from Nov 1 to Nov 30, 2023. Offer subject to change without notice.
Are you an existing Oaken customer?
Other ways to open an account
Commercial applications can be downloaded here and mailed to us.
Or if you prefer to make an appointment to apply in person, you can do so by viewing our Oaken store locations. For more information, please email service@oaken.com or call 1-855-OAKEN-22 (625-3622) from Monday to Friday 8:00AM to 8:00PM EST and Saturday from 9:00AM to 5:00pm EST.