Oaken Commercial GICs
If you own a business, operate a not-for-profit or control the funds of your condo board, you know how important it is to have guaranteed savings.
Open a non-registered GIC now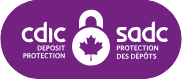 Eligible for CDIC coverage
Some of the best GIC rates available
Our interest rates are among the highest in Canada, with no teaser rates, hidden fees or any other gimmicks. This means our no-fee GICs the ideal way to manage the funds of your business or non-profit entity.
Safeguard your organizations finances
If you're managing a corporation or association, your first priority is to ensure the safety of the funds held in the corporation's name. That's where we come in. Oaken GICs are the perfect instrument for protecting the corporation's principal now and in the future. Our GICs are available for any type of entity such as:
Condo or strata corporations
Associations
Trusts
Businesses(incorporations, partnerships, sole proprietors, etc)
Non-profits and charities
The great advantage of our GICs is that they satisfy even the strictest financial requirements. From condo reserve funds to investments in a charity or trust, our GICs can help you discharge your fiduciary responsibilities, while benefitting from some of the highest deposit interest rates in Canada.
Security
Managing funds for a commercial entity is not like managing funds for yourself. You can't afford to take any risks, and in some cases, you're legally prevented from doing so. That's why our GICs are such a good fit. We're backed by Home Bank, and powered by Home Trust Company, Canada's largest independent trust company that has been proudly serving Canadians since 1987. And in addition to being very low risk, all Oaken investments are eligible for the Canada Deposit Insurance Corporation (CDIC) coverage, up to applicable limits. So you'll always sleep soundly knowing the funds are protected, and the money will be there when it's needed.
Convenience
To save you time and make your life easier, you can manage your organization's investments through Oaken Digital. With just a few clicks, you can take a look at current information any time of the day or night, from the comfort of wherever you want.

Share separate online access with other authorized signatories

Track balances and transactions

Transfer funds to or from other institutions

View and update the maturity instructions

Use the powerful alert system to receive messages about balances, transactions and maturity dates
Choice
Investing with Oaken offers more than just a safe harbour. We're also known for our simple, straightforward investment options, and our GICs are a perfect example:

Available in both short and long terms, from 30 days all the way up to 5 years

Interest can be paid monthly, semi-annually, annually or at maturity

Cashable or non-cashable options, for whatever suits the entity's needs

Two deposit issuers to choose from—Home Bank and Home Trust Company—both of which are separate members of CDIC
Top all that off with our Oaken Savings Account—offering one of the highest daily interest rates, with no monthly fees or minimum balances—and you've got everything you need to manage your organization's money with full peace of mind.
Terms and conditions apply. Offer valid from Nov 1 to Nov 30, 2023. Offer subject to change without notice.
Are you an existing Oaken customer?
Other ways to open an account
Commercial applications can be downloaded here and mailed to us.
Or if you prefer to make an appointment to apply in person, you can do so by viewing our Oaken store locations. For more information, please email service@oaken.com or call 1-855-OAKEN-22 (625-3622) from Monday to Friday 8:00AM to 8:00PM EST and Saturday from 9:00AM to 5:00pm EST.