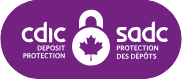 Eligible for CDIC coverage
Some of the best GIC rates available
Our interest rates are among the highest in Canada, with no teaser rates, hidden fees or any other gimmicks. You can also hold Oaken GICs within either a registered or non-registered plan. This means you can enjoy the combination of guaranteed principal and the opportunity to securely build your savings over time.
Why invest in a GIC?
Guaranteed Investment Certificates (GIC) offer a safe way to invest your money, because your principal and interest rate are both guaranteed. This makes GICs a great choice if you're looking for a secure place to keep your savings. Oaken GICs give you the opportunity to build your savings on your terms, with flexible options that put you in control of your money. With our GICs, you're in the driver's seat:

We offer a variety of terms ranging from 30 days to 5 years, so it's easy to find one that matches your timeline

You can select from two issuers for each deposit – Home Bank and Home Trust Company – both of which are separate members of CDIC

It's up to you how often you want to receive interest payments – monthly, semi-annually, annually or at maturity (for terms of one year or more)

Choose between having flexible access to your money, or locking it for a set time period
What GICs are right for you?
There are many different types of GICs to choose from, so it's easy to find one that fits your particular savings goal, whether it's for retirement, for a major purchase or expense, or if you simply need to keep your money safe for a certain period of time. Our range of GIC options are available in both Registered or Non-registered plans. Click to learn more about each one.
Invest in security
All Oaken GICs are eligible for the Canada Deposit Insurance Corporation (CDIC) coverage through either Home Bank or Home Trust Company, up to applicable limits, so your savings are protected and your money will be there when you need it.
Terms and conditions apply. Offer valid from Nov 1 to Nov 30, 2023. Offer subject to change without notice.
Are you an existing Oaken customer?
Other ways to open an account
Commercial applications can be downloaded here and mailed to us.
Or if you prefer to make an appointment to apply in person, you can do so by viewing our Oaken store locations. For more information, please email service@oaken.com or call 1-855-OAKEN-22 (625-3622) from Monday to Friday 8:00AM to 8:00PM EST and Saturday from 9:00AM to 5:00pm EST.