Reduce the taxes you're required to pay on your savings
Oaken's registered GICs can help you reach your savings goal while lowering the amount of tax you pay on your investment.
Open a GIC now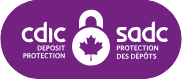 Eligible for CDIC coverage
Some of the best GIC rates available
Our interest rates are among the highest in Canada, with no teaser rates, hidden fees or any other gimmicks. This means you can enjoy the advantages of a guaranteed principal while securely building your savings over time.
Save and tax benefits
At Oaken Financial, our GICs are eligible to be held inside a registered account to help you build your savings while reducing the amount of tax you're required to pay. Whether planning for your future or saving for something special, Oaken is here to help you keep more of your hard-earned money. Invest in an Oaken GIC and enjoy these benefits:

Terms range from 30 days to 5 years so it's easy to find an Oaken GIC that meets your needs

You choose how often you want to receive interest payments – monthly, semi-annually, annually, or at maturity (for terms of one year of more)

Safe and secure – Oaken personal GICs are eligible for the Canada Deposit Insurance Corporation (CDIC) coverage, up to applicable limits, so your saving are protected and your money will be there when you need it

Select from two issuers for each deposit: Both Home Bank and Home Trust Company are separate CDIC member institutions

Great rates: Oaken offers some of the highest GIC rates available in Canada

Flexible deposit amounts: Our minimum deposit is just $1,000